MWHC's Top 10 in 2019
The mission of Mary Washington Healthcare is to improve the health of the people in the communities we serve. We accomplish that mission through a variety of medical services, innovations in technology, community programs, and education.
Here are 10 ways our mission impacted the Fredericksburg region this year:
Grief Support for Children and Teens
Grief Support Services sponsored three programs for kids and teens this year: Camp Brandon, Camp Rainbow, and Kids Helping Kids. Combined, these programs impacted almost 140 kids and teens, helping them to process the loss of a loved one. We couldn't have done it without dozens of volunteers and sponsors. Thank you to David L. Brooks Hauling and Excavating, Drainfield Solutions, Hamro & Associates, Chinault's Landscaping, Sheehy Toyota of Fredericksburg, Fredericksburg Parks and Rec, New York Life Foundation, and Youth in Philanthropy. For more information, visit griefsupport.mwhc.com.
New Mary Washington Medical Group Practices
This year we welcomed two new physician practices into our family of care: Mary Washington Orthopedics in affiliation with FOA and Mary Washington Spine & Rehabilitation. These practices have added vital healthcare services to Mary Washington Medical Group, such as medical and surgical orthopedic care, sports medicine, and pain management and rehab.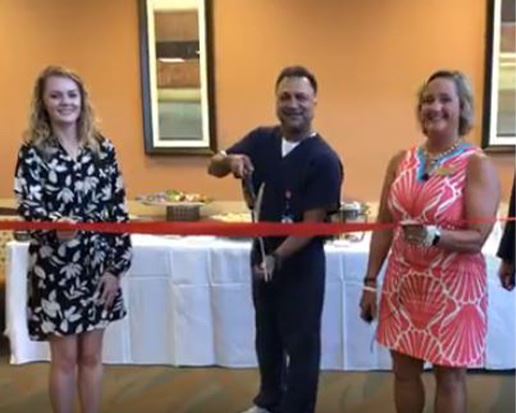 Stafford Hospital Turns 10
Stafford Hospital celebrated its 10th birthday in February. Some stats as of that date:
7,800+ babies born in The Family Birth Place
337,500+ patients received care in the Emergency Department
20,900+ surgery cases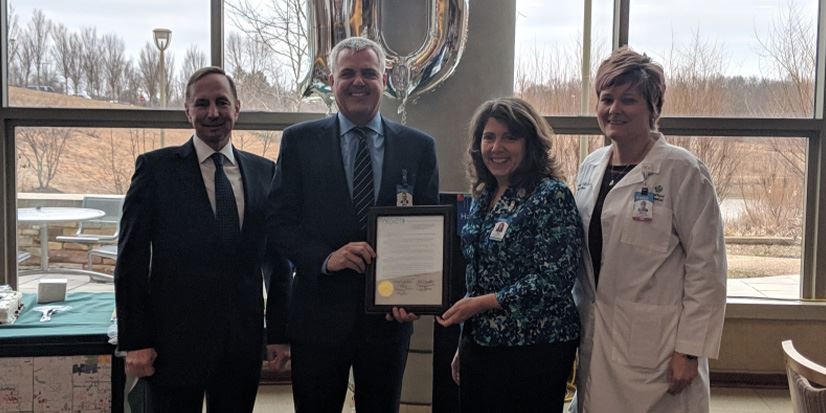 Mark Dudenhefer, Stafford County Board of Supervisors Vice Chairman; Mike McDermott, MD, President & CEO, Mary Washington Healthcare; Cathy Yablonski, Vice President, Administrator, Stafford Hospital; Debra Marinari, Administrative Director, Nursing Practice & Operations, Stafford Hospital
Community Outreach
In 2019, Mary Washington Healthcare educated and trained hundreds of citizens in free classes on fall prevention, hands-only CPR, and Stop-the-Bleed (STB). STB trains bystanders to help in a bleeding emergency before professional help arrives. Lake of the Woods and Del Webb Celebrate Virginia were among the communities that participated in these outreach efforts. Several local businesses and faith communities also participated in these life-saving classes led by MWHC Associates.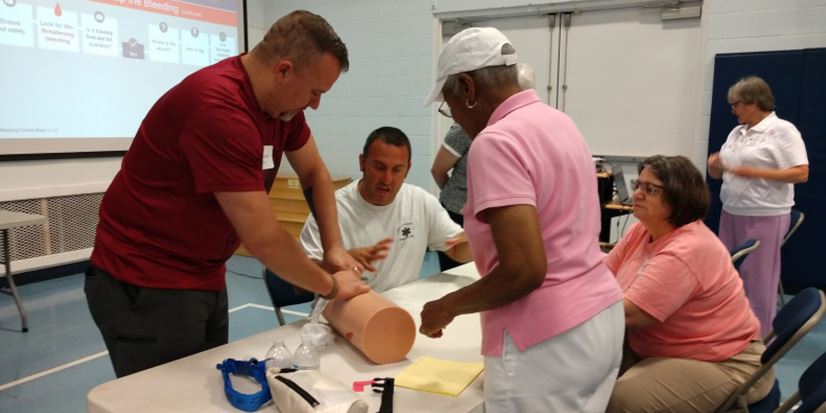 Wellness Program
The Mary Washington Wellness Program provides healthcare resources for people living with HIV/AIDS. It also provides early intervention services for people with high-risk lifestyles. This year we were awarded a new grant from the D.C. Department of Health for Early Intervention Services for the prevention of HIV, we partnered with Gilead Pharmaceuticals and the Rappahannock Area YMCA, Inc. to help clients reach viral suppression, and also partnered with the Virginia Department of Health to offer free walk-in HIV testing. Learn more about the Wellness Program here.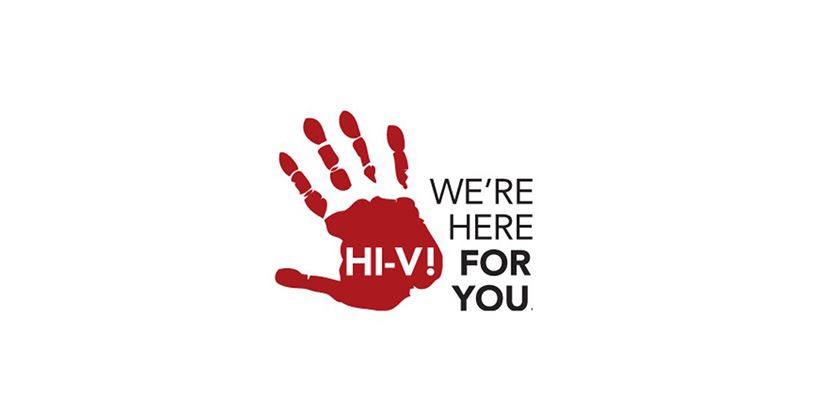 America's 100 Best for Joint Replacement
Mary Washington Hospital was named one of America's 100 Best for Joint Replacement and was also recognized for the following clinical achievements:
Joint Replacement Excellence Award™ for 3 years in a row (2017-2019)
Five-Star Recipient for Total Knee Replacement for 3 years in a row (2017-2019)
Five-Star Recipient for Total Hip Replacement for 4 years in a row (2016-2019)
Five-Star Recipient for Back Surgery in 2019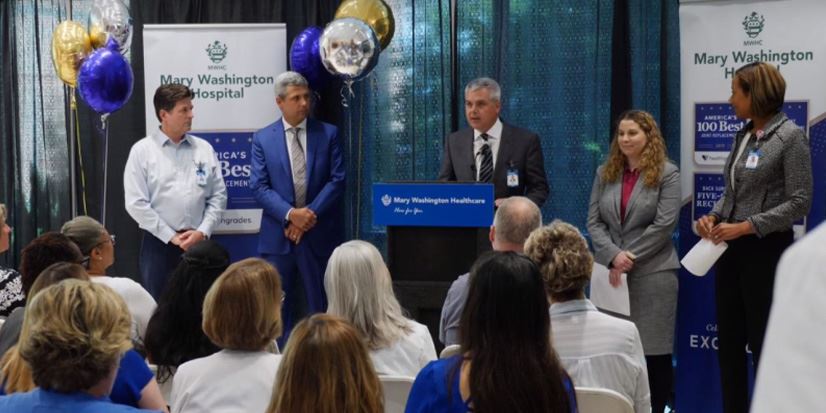 Mary Washington Medicare Advantage
Following five years of success with Medicare's Shared Savings and NextGen Programs, Mary Washington Healthcare expanded our value-based service offerings to include a Medicare Advantage plan for the region's senior population. Learn more at https://www.mwmaplan.com/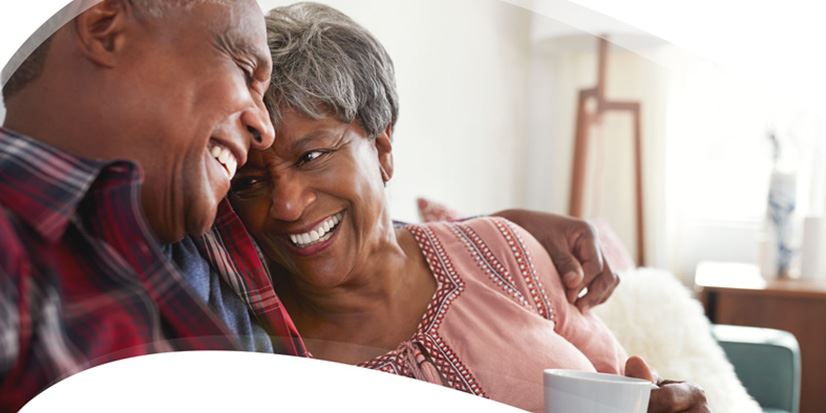 Mary Washington Urgent Care
In November, we opened our first Mary Washington Urgent Care location in King George. You'll also find the brand new Medical Imaging of King George in the same office. Mary Washington Urgent Care is open 365 days a year, providing much-needed medical care to the residents of King George. Coming in spring 2020: Mary Washington Urgent Care South Stafford.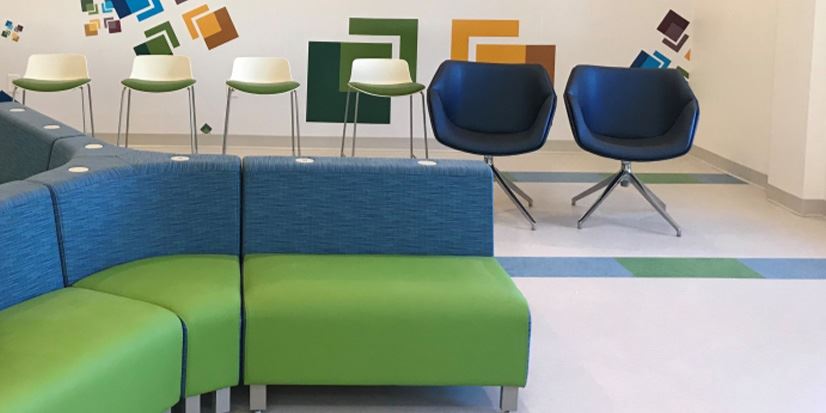 Magnet Recognition for MWH
In May, Mary Washington Hospital attained Magnet recognition again, a testament to its continued dedication to high-quality nursing practice. Receiving Magnet recognition for the third time is a great achievement for Mary Washington Hospital, as it continues to proudly belong to the global community of Magnet-recognized organizations. Just 492 U.S. health care organizations out of over 6,300 U.S. hospitals have achieved Magnet recognition.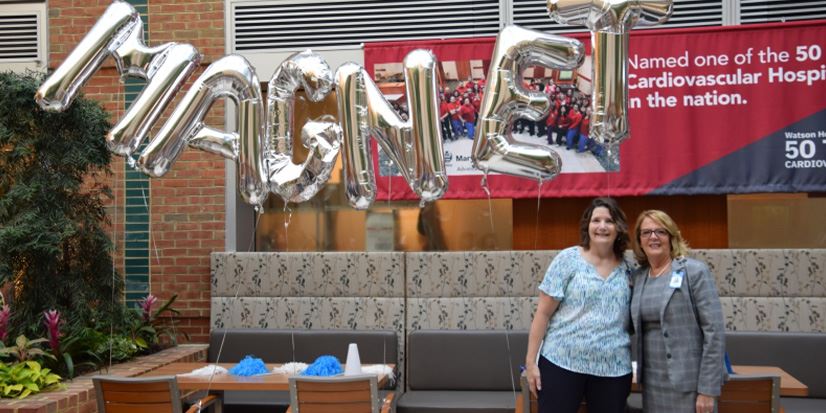 50 Top Cardiovascular Hospital
In November, Mary Washington Hospital was once again named one of the 50 Top Cardiovascular Hospitals by IBM Watson Health™.
"This recognition represents the continuous hard work and tireless dedication of our physicians, nurses, and staff at Mary Washington Hospital," said Michael McDermott, MD, MBA, President and Chief Executive Officer of Mary Washington Healthcare.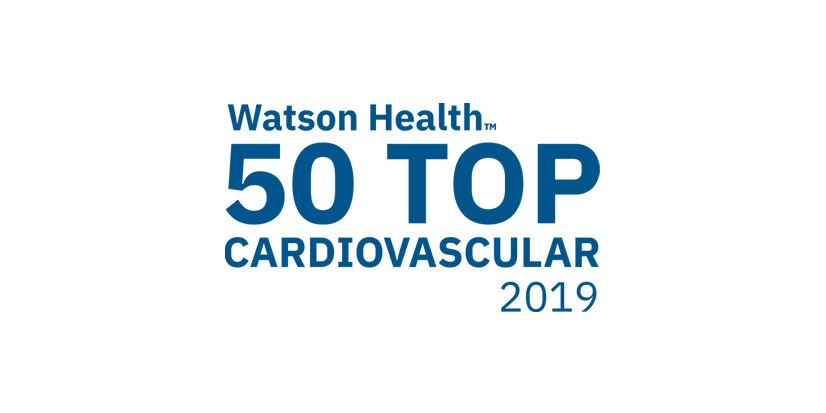 We can't wait to see what 2020 brings to the Fredericksburg region and to Mary Washington Healthcare. Thank you for taking this journey with us! We couldn't do anything without the support of our community, our Associates, and our business partners.