Frequently Asked Questions
What if I can't afford my medical bill?
If you believe you qualify for financial assistance, we are here to help.
If you're struggling to pay your medical bills, we're here to help. Our financial counseling specialists can review your account and determine what assistance we can offer. We'll first check to see if you qualify for financial assistance (also known as free care). If not, we'll see if you're eligible for a discount. And if you can't pay the full amount, we can work out a payment plan that fits your budget.
Even if you own your own home, you may still be eligible for financial assistance or a discount. At Mary Washington Healthcare, we don't count the value of your home against you when determining what you can afford to pay. We also don't count the first $10,000 you have in cash or bank accounts.
Rest assured that all of your information is confidential and will only be used to determine your eligibility for financial assistance from us. We never share your information with any other organization.
Do I qualify for medical assistance?
Self-pay balances that have been billed for 240 days or greater may not qualify for a financial assistance discount.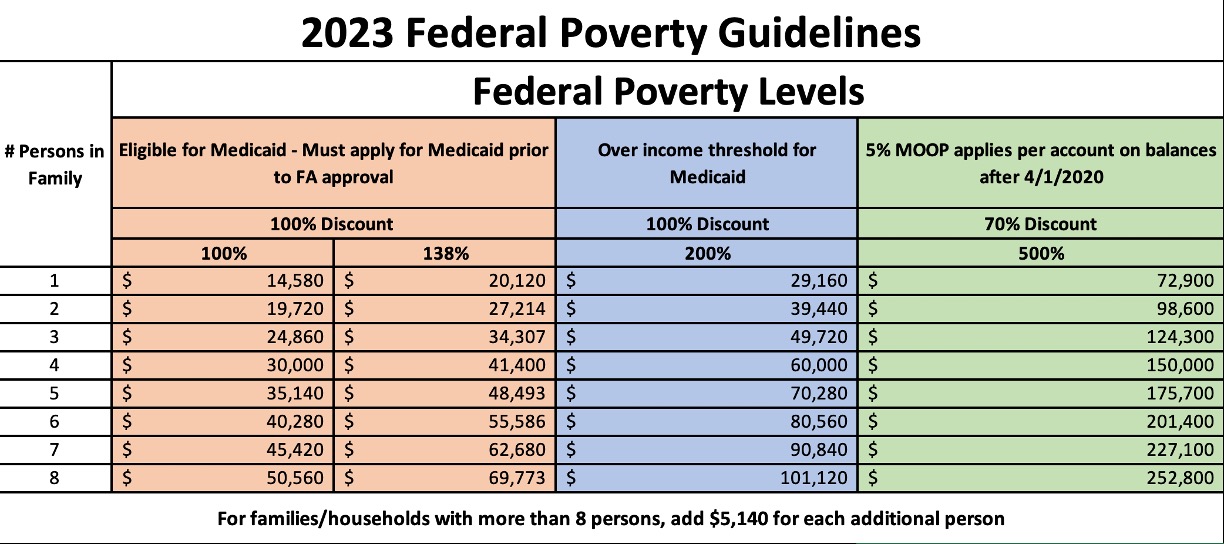 Who qualifies for financial help?
Your care is medically necessary, and one of the following applies to you:
You do not have health insurance, or
You have health insurance but you have received a non-covered service, or
You are not eligible for any government health benefits (for example Medicaid), or
You cannot pay for care based on a determination of financial need according to MWHC policy.
Free care is provided to patients who do not have health insurance and do not have the money to pay their bills. Free care helps families with combined incomes that are at or less than 200 percent of the federal government's poverty guidelines.
To discuss your eligibility, we encourage you to call one of our financial counselors at 540.741.1041.
How do I apply for financial assistance?
At Mary Washington Healthcare, we believe that everyone should have access to the healthcare services they need, regardless of their ability to pay or insurance status. That's why we offer Patient Financial Assistance Discounts, and you may be eligible for help with the self-pay portion of your hospital bill. To determine if you're eligible for this program, please follow these steps:
STEP 1
If you are uninsured, please contact your local Social Services Department to apply for Medicaid or FAMIS. Contact one of the offices below to find the closest location:
STEP 2
OPTION A: You can complete the Patient Financial Assistance application in MyChart, Mary Washington Healthcare's Electronic Medical Record. If you do not have a MyChart account, it takes minutes to create. Head to mychart.mwhc.com to get started.

OPTION B: Complete then print the Patient Financial Assistance application (carta de presentación y Solicitud de Ayuda Financiera) for all household members within 15 days. In addition to the application, you need to provide copies of the following:
Proof of Income from all sources, for all household members*, which may include copies of the following:

2 most recent pay stubs
2 most recent bank statements
most recent federal tax return
official statement of disability or unemployment income
pension/annuity verification
child or spousal support documentation
educational assistance (grants, scholarships & employer tuition reimbursement)
interest, dividends, rents, royalties, income from estates or trusts

Copies of state or federal assistance program verification (SNAP/food stamps, WIC, Medicaid, TANF, housing assistance, homeless clinic, free/reduced school lunch)
Copies of medical insurance cards (front and back) if you have coverage
If you applied and were denied Medicaid, a copy of the denial letter
*If you do not have any of the requested types of Proof of Income, please provide a notarized letter of support demonstrating how you are paying for your living expenses. This letter should be from a family member, friend or organization that is supporting your living needs.
STEP 3
Return application and all requested documents to:
Mary Washington Healthcare
Attn: Financial Counseling
2300 Fall Hill Avenue, Suite 101
Fredericksburg, VA 22401
Once we receive your application we will determine what programs you are eligible for and send you a letter regarding our decision. If you need help completing the application or if you have questions, call 800.395.2455 or 540.741.1041 Monday through Friday from 8:00 a.m. to 4:30 p.m. Mary Washington Healthcare Patient Financial Assistance Discounts are applied to all hospital-based or employed physician charges. Therefore, you may receive separate charges billed from your physicians separately.
MWHC maintains a list of physicians ("Provider List") of all providers at MWHC delivering Emergency Care or Medically Necessary Services.
The following physician groups and their providers have agreed to provide the same level of financial assistance to patients when the patient meets the MWHC financial assistance criteria for their hospital bill.
North American Partners in Anesthesia 1.888.280.9533
Fredericksburg Emergency Medical Alliance 1.866.898.7138
Pathology Associates of Fredericksburg 1.800.849.8085
Radiologic Associates of Fredericksburg 1.866.953.5869
However, patients will need to contact their respective physician/ physician group and provide a copy of the MWHC Financial Assistance approval letter.
Insurances We Accept and No Surprise Act
Please note: The list below is for reference only and is subject to change. Not all plans within the companies listed are participating. Please call the number on the back of your insurance card to confirm that Mary Washington Healthcare facilities and providers are included.
Anthem Blue Cross Blue Shield
Aetna
CareFirst Blue Cross Blue Shield
Cigna
Humana Medicare Advantage
Innovation Health
Kaiser
Medicare
Medicaid
Mary Washington Medicare Advantage
Molina Healthcare
Magellan Complete Care of Virginia
Optima Health
Private HealthCare Systems (PHCS)
Tricare Prime and Select
UnitedHealthcare
United Healthcare-Optum Community Care Network
MedCost Virginia
Virginia Premier
Surprise Billing Protection and your right to a good faith estimate
PROTECCIÓN DE LA FACTURACIÓN DEL SALDO POR SERVICIOS OBTENIDOS POR FUERA DE LA RED
Professional Billing versus Hospital Billing
If you are a patient of our new Family Medicine Residency Clinic, Internal Medicine Residency Clinic, Mary Washington Cardiology in Fredericksburg, Pediatric Therapy, or Maternal Fetal Medicine, you may notice differences on your bill compared to another Medical Group practice. These clinics are departments of Mary Washington Hospital, which allows us to offer an expanded catalogue of services to our patients. The services you receive may be split into two separate bills to your insurance: a practitioner bill for professional services provided, and a facility bill for the use of equipment and resources. Depending on your insurance coverage, this change may also affect the amount of your co-pay or other out-of-pocket expenses. Please call the practice if you have specific questions or if you would like an estimate of your share of the bill prior to your appointment. As always, if you have questions about your bill, please call our financial counseling team at 800.395.2455 or 540.741.1041.
Give us your feedback
Your opinion matters! Please take 1 minute to complete this survey regarding your financial experience.