Project SEARCH Interns Fill Hand Sanitizer Bottles for Patients and Visitors
Spotted in the Volunteer Services office at Mary Washington Hospital: two Project SEARCH interns, Joel and Jonathan, hard at work filling 10ml spray bottles with hand sanitizer. How they came to be doing this on a Thursday after lunch is a great story involving A. Smith Bowman Distillery, Mary Washington Healthcare (MWHC) Supply Chain Operations, and the MWHC Innovation Council, a team tasked with finding innovative ways to source items in short supply during COVID-19.
In the height of the pandemic, A. Smith Bowman Distillery donated hundreds of bottles of hand sanitizer to MWHC to be used wherever they were needed. Our Supply Chain reached out to the Innovation Council for ideas on how best to use and distribute the sanitizer.
After experimenting with several types of spray bottles, the council chose a plastic bottle holding 10ml of sanitizer. They designed a label for the bottle and got busy filling bottles to hand out at the entrances to the hospitals. The council quickly realized this would be an ongoing project and that they needed help!
Thankfully in August, volunteers and student interns were cleared to return to the hospital, which included our Project SEARCH interns. Project SEARCH is a national program preparing young people with disabilities for success in integrated, competitive employment. We partner with Stafford County Schools' five area high schools to provide real-life job training for area students.
Three of our interns from last year were able to return this year to complete their training, and we gained four new interns to join them. This year's class is rotating in volunteer services, food services, environmental services, pharmacy, central sterile, ICU, and same-day surgery, engineering, and medical imaging. Project SEARCH instructor, Stacey Vastano, helps the interns learn social, interpersonal, and job-specific skills, while also encouraging them to think beyond their internship to full-time employment after graduation.
Joel, a Stafford High School graduate, is currently interning in medical imaging and volunteer services. He spends several afternoons each week filling sanitizer bottles with the help of intern Jonathan, who some may recognize from last year. Jonathan, a Colonial Forge High School graduate, was able to return this year to continue his training and is currently interning with Central Sterile when he's not helping Joel.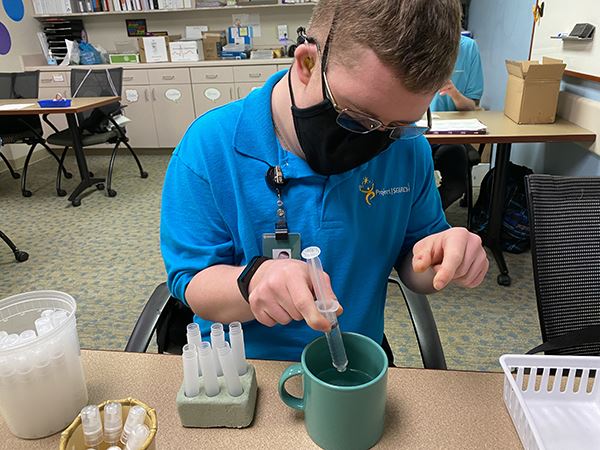 The young men have a great assembly line system going, allowing them to fill several hundred spray bottles each week. It was tricky at the beginning as they worked through how best to fill the bottles, but the pharmacy team came to the rescue with a 10ml syringe that allows Joel to measure the exact amount of liquid for each bottle.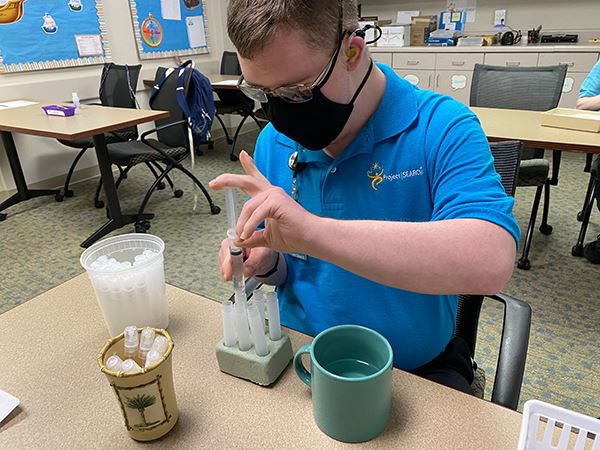 Jonathan takes his time–quality over quantity, he says!–to roll each label on precisely so it doesn't wrinkle or fold.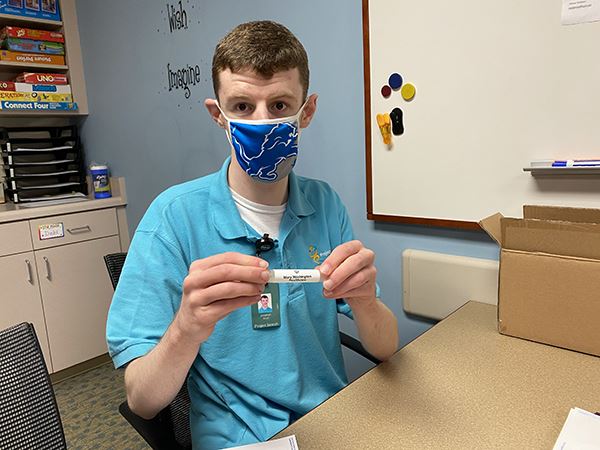 Thank you to our interns for the important work they are doing, and to Stafford County Schools for partnering with us to provide Project SEARCH.