Event Details
Healthcare Discovery Symposium
Categories:

General Event, Virtual Event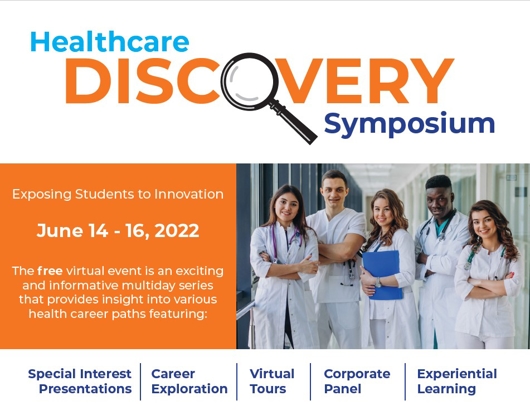 About This Event
Details:
The second annual Healthcare Discovery Symposium, hosted virtually by Mary Washington Healthcare and the Rappahannock Area Health Education Center, will take place June 14 –16.
The free virtual event highlights various healthcare career paths and features special interest presentations, career exploration, professional development, virtual tours, and a corporate panel of experts and experiential learning opportunities. Representatives from the University of Mary Washington, Mary Washington Healthcare, VCU Health, Germanna Community College, Randolph-Macon College, Goodwill Industries, Inc, and Rappahannock Community College will be leading presentations and discussions throughout the event.
The multi-day symposium will help students discover areas of interest in healthcare and provide resources for individual career paths. Participants can choose which sessions they wish to attend. Discussion and exploration topics, led by professionals in each field, include behavioral health, telemedicine, physical therapy, nursing, EMS, radiation oncology, and more. Other sessions will focus on preparing for interviews, benefits of volunteering, resume writing tips, financial planning, and others. High school seniors, college students, and others interested in exploring opportunities in the healthcare field are encouraged to attend.
Students will need to register officially to be eligible for one of our gift cards and to participate in some of the career-related activities.