Event Details
Operation Medicine Cabinet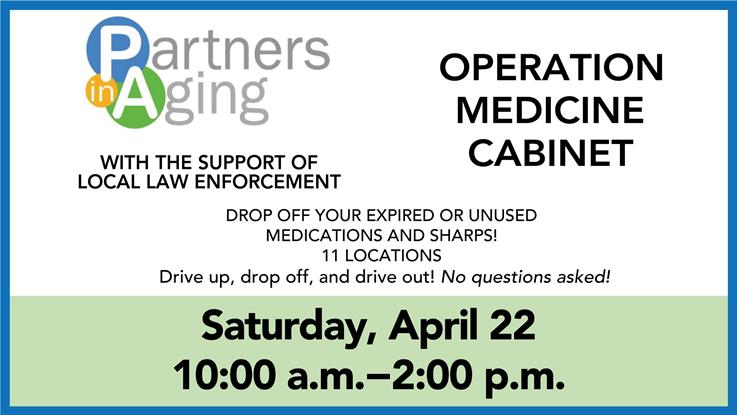 About This Event
Details:
Drop off your expired or unused medications and sharps! No questions asked. Hosted by Partners in Aging with support from local law enforcement.
You can leave the medications in their original bottles, as they will all be incinerated at a secure location.
11 locations:
Stafford Hospital
101 Hospital Center Boulevard
Stafford, VA 22554
Mary Washington Hospital
Tompkins Martin Medical Plaza
1101 Sam Perry Boulevard
Fredericksburg, VA 22401
Wegmans
2281 Carl D. Silver Parkway
Fredericksburg, VA 22401
NO SHARPS ACCEPTED
University of Mary Washington Bell Tower
1301 College Avenue
Fredericksburg VA 22401
NO SHARPS ACCEPTED
Chancellor's Village
12100 Chancellor's Village Lane
Fredericksburg, VA 22407
NO SHARPS ACCEPTED
Mary Washington Healthcare
Emergency and Outpatient Center – Lee's Hill
10401 Spotsylvania Avenue
Fredericksburg, VA 22408
Spotsylvania Regional Medical Center
4600 Spotsylvania Parkway
Fredericksburg, VA 22408
CVS Courtland Commons
9767 Courthouse Road
Spotsylvania, VA 22553
NO SHARPS ACCEPTED
Mary Washington Primary Care and Pediatrics
8051 Prosperity Way
Ruther Glen, VA 22546
Walgreens
104 West Broaddus Avenue
Bowling Green, VA 22427
NO SHARPS ACCEPTED
Walmart/Petco Parking Lot
16375 Merchant's Lane
King George, VA 22485
NO SHARPS ACCEPTED
For more information, call:
Health Link 540.741.1404 or 800.722.2788
M–F, 9:00 a.m.–5:00 p.m.