Event Details
FREE Skin Cancer Screening Event
Categories:

Regional Cancer Center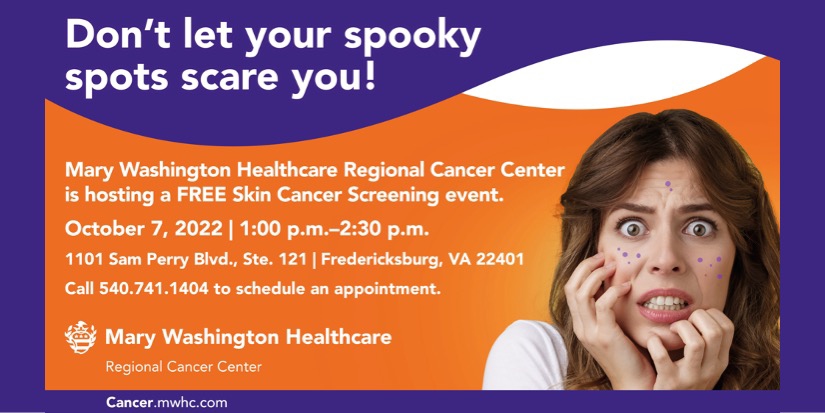 About This Event
Details:
Don't let your spooky spots scare you!
The Mary Washington Healthcare Regional Cancer Center is hosting a FREE Skin Cancer Screening event. 
When: October 7th, 1:00 p.m. - 2:30 p.m. 
Where: 1101 Sam Perry Blvd #121, Fredericksburg, VA 22401
Call 540.741.1404 to schedule an appointment.
A few reminders before your appointment:
You must be 18 years of age or older. 
Please bring a valid picture I.D. and insurance card (Your insurance will not be billed. This is only to assist with scheduling for evaluation & treatment beyond the event).
If you are a current patient, we kindly ask that you do not schedule for this event. The goal is for us to serve our community members who are not currently patients.
Please refrain from wearing make-up or nail polish.
This is a FREE event. Patients cannot request specific providers.
Please arrive five minutes prior to your scheduled appointment time to complete paperwork (if any). If you are late, please be patient as we work you back into the schedule. 
Due to limited space for the event, we ask that you kindly have companions wait in the vehicle. The waiting room will be reserved for persons that are scheduled.
Please understand that this event does not constitute a patient/provider relationship with the provider performing the screening. For any concerns identified during the skin check, you will be provided a list of providers in the area. We encourage you to contact your insurance to confirm an in-network provider.
Mary Washington Dermatology is not responsible for any referrals that may be required through a primary care provider for further evaluation and care management. 
Contact Phone:
540.741.1404