Event Details
Stroke and Trauma Expo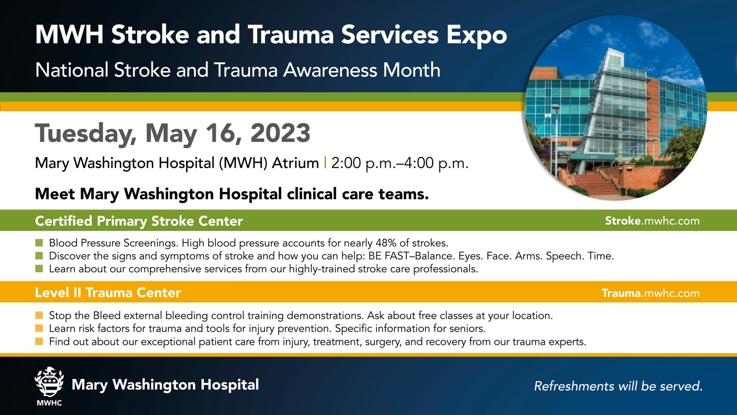 About This Event
Details:
May is National Stroke and Trauma Awareness Month. Join us for the Mary Washington Hospital Stroke and Trauma Services Expo on Tuesday, May 16, 2023 in the Atrium from 2:00 p.m.–4:00 p.m.
Meet Mary Washington Hospital clinical care teams.
Certified Primary Stroke Center
Blood Pressure Screenings. High blood pressure accounts for nearly 48% of strokes.
Discover the signs and symptoms of stroke and how you can help: BE FAST–Balance. Eyes. Face. Arms. Speech. Time.
Learn about our comprehensive services from our highly-trained stroke care professionals.
Level II Trauma Center 
Stop the Bleed external bleeding control training demonstrations. Ask about free classes at your location.
Learn risk factors for trauma and tools for injury prevention. Specific information for seniors.
Find out about our exceptional patient care from injury, treatment, surgery, and recovery from our trauma experts.
Refreshments will be served.